Nidec Copal Products
Contitec Electronics has been a "value add" independent distributor of Nidec Copal Nidec products since 2007. We provide our customers with excellent support and highly competitive commercial solutions as well as full technical support, with a direct link to Copal manufacturing facilities.
Copal manufacturing was established in April 1967 in Japan as a specialty manufacturer of electronic components. The company's philosophy remains unchanged: to be a supplier of high quality products while offering competitive prices. Nidec aquired Copal in 2007 and has meanwhile integrated the company. Copal supplies top quality products dedicated for demanding industrial, medical, telecom, and automotive applications. The product range covers Switches,Trimmer Potentiometers, Attenuators, Mixed Signal devices, Protectors, Current Sensors, Ratching relays, and more.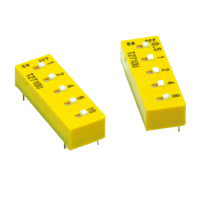 T2710
Type
T2710
Attenuator Circuit
Unbalanced Type
Attenuation Value

0.5,1,2,4,8 dB (15.5dB)

1,2,4,8,16 dB

Impedance
600 Ohm
Frequency Range
DC ~ 150kHz
Power
50mW