Welcome to Contitec
Contitec is a technology company focused on marketing of electromechanical components. We design and develop a wide range of leading edge acoustic products. Our speakers, magnetic buzzers, piezo buzzers and microphones are used in automotive, white goods and telecom applications all over Europe. Furthermore we market industrially proven solutions of switches, trimmer potentiometers, rotary encoders and DC fans. Our goal is to deliver added value to our customers' applications with regard to our product performance and their system solution, thus providing a clear economic advantage.
Our benefits

Innovative Products
Excellent Quality
Best Price
Engineering Expertise
We are turning your ideas into products
Developing a new product is a complex process that requires a concerted effort, managing a project through the various stages of development. Contitec realizes this during the product definition, development and manufacturing stages. Our target is to provide the product you want to have with regard to the quality, functionality, and cost that are needed to make it a market success. From your Idea to a series product >>>
New Products
für automotive haptic Anwendugen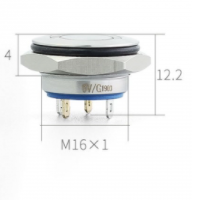 waterproof , anti-demage, 0.5mm stroke
Micro Blower
Our micro blower are very compact and light weight. The unique airodynamic bearing technology generates a non-contact rotational motion to provide ultra-high speed rotation (mx. 50.000 rpm). The micro blower generates high static pressure and low vibration. Typical application are medical CPAP, fuil cell system, server, printer etc.
Super small metall switch
Our new MS-series of super small metall switches with a lenght starting from 12mm. Optional an illuminated verision with colors of red/green/yellow/blue/white is available. The typical diameters are 12mm, 16mm and 19mm. The body is stainless steel, anti-damage and waterproofed (IP67). The stroke distance is just 0.5mm. The switching current is 50mA at 12VDC.
Touch Actuator for automotive "haptic Applications"
In modern applications mechanical buttons are becoming obsolete. They are being replaced by touchscreens and capacitive buttons. When a mechanical buttons are being pressed they give a clear haptic indication to the user. Unfortunately, the new technologies cannot provide this feeling indication since there are no moving parts. This is where our touch actuator can be used to genrate a tactile feedback for the user. Originally developed for audio speakers, active touch technology is now being used to provide reliable motion control for a wide range applications. Contitec has a years of experience in desing and production of speaker audio solutions.