Solutions for Automotive
Contitec is delivering numerous automotive acoustic components used in automobile industry. Our automotive speakers, automotive buzzers and microphone modules are implemented in various systems for cars, trucks and busses. Our acoustic components are build in infotainment systems, vehicle body, vehicle chassis, interior cabin, key touch sounds, electronic toll collection systems, electric side doors, drive recorder, seat belts alarms , light on/off alarms, revervs range and parking assist.
AVAS for electric cars
The silence of electric vehicles is highly appreciated by most drivers and people outside the vehicle. But in some situations a driving noise is required in order to increase safety for pedestrian in front of the vehicle. At low speeds below 30 kmh, the cars will be required in USA to emit some kind of sound to make their presence better known to others in the surrounding area. The European Parliament approved legislation too that requires the mandatory use of "Acoustic Vehicle Alerting Systems" for all new electric and hybrid electric vehicles. Currently Contitec is devloping for electric vehicles (EV-Cars) a specific speaker generating driving noise to draw attention of the pedestrian. We have many years of experience in automotive acoustic solutions. Our R&D and production facilities are qualified by divers automotive OEM´s from EU, USA, and ASIA. We are flexible, costefficient and automotive approved.
More and more automotive manufacturer are designing new electronic vehicles. Following the different application requirements and customer needs we are offering a "modular AVAS" approach to meet all expectations of our customers. Our modular AVAS solutions :
AVAS-Acoustic: Speaker only
AVAS-Box: Front cover + Speaker + Back cover
AVAS-System: Front cover +Speaker+ Electronic Control unit + Back cover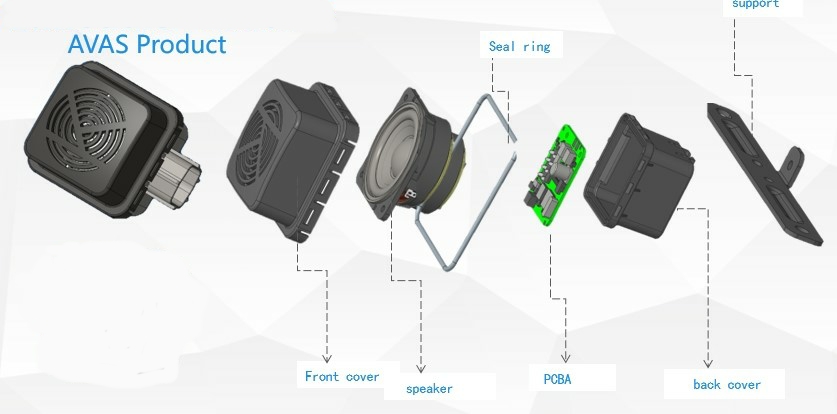 We serve reliabilty conditions equivalent to AEC-Q200.